"Today I would interpret Crime and Punishment

as a novel about the motives behind idealistic murder.

I say 'today' because I am adapting the novel to create

contemporary theatre and in so doing I have a responsibility

towards the society I live in. Raskolnikov's article on the subject

of crime and the way he chooses to interpret it to the Public

Prosecutor Porfiry Piotrovich is of the greatest significance to me.

I know this kind of argument only too well: from the Nazi

Concentration Camps to the most recent political murders.

Bloodshed is acceptable if it is necessary (not even essential)

to the general progress of mankind."

Andrzej Wajda, 1984.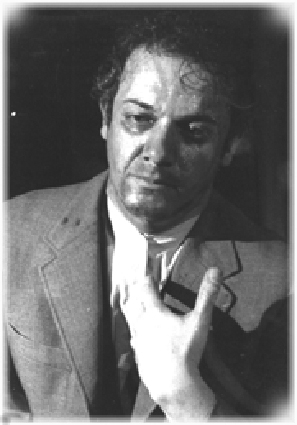 George Kimoulis (Raskolnikov)



George Kimoulis (Raskolnikov), Ilias Logothetis (Porfiry)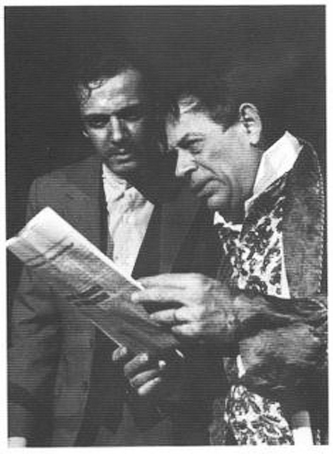 George Kimoulis (Raskolnikov), Ilias Logothetis (Porfiry)





Adaptation: ANDRZEJ WAJDA

Transalation: MARGARITA ZORBALA & GEORGE KIMOULIS

Director: THANASIS THEOLOGIS & GEORGE KIMOULIS

Set designer: NICOS PETROPOULOS

Costume designer: NICOS PETROPOULOS

Lighting designer: PANAYIOTIS MANOUSIS

Music: SPIROS PAPANASTASIOU

Executive producer: VASILIS GEORGIADIS


Cast:

Zamiotov: STEFANOS IATRIDIS

Dementiev: STATHIS VOUTOS

Porfiry Piotrovich: ILIAS LOGOTHETIS

Raskolnikov: GEORGE KIMOULIS

Razoumihin: VLADIMIROS KIRIAKIDIS

A man: SPIROS MERYIANOS

Sonia: MARGARITA ZORBALA